You probably have concerns if you're thinking about having the baby at home . Is it secure? Will you require a doctor or a midwife? How do you develop a backup strategy?
Continue reading to find out more about the pros and cons of  home birth.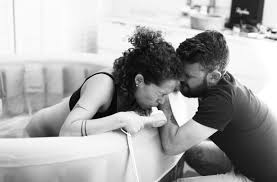 Reasons for choosing home births?
The following are reasons  one may love  to choose home birth:
The desire to give birth naturally without using any medical procedures, such as painkillers, labor induction, fetal heart rate monitoring, forceps, or other tools to assist with delivery
The desire to deliver in a cozy, familiar environment
Unhappiness with hospital care
The desire for more birth process control
Religious or cultural reasons
Inability to obtain transportation
Absence of a nearby hospital
The Pro wass and Cons of Home Birth 
The following are the pros of having a home birth: 
Having natural childbirth with the help of reputable healthcare professionals of your choice.
Delivering the baby while receiving continuity of care from medical professionals with whom you have developed a relationship over time and who are familiar with you and your family.
Read also :Newborn hiccups after feeding: Baby hiccups Solutions.
Having a child in a place you are familiar with and at ease 
Having the liberty to move about your home and to work anywhere you want, however you want.
Allowing yourself the freedom to eat and drink during labor as your body thinks necessary.
If you decide to have a water birth, give birth to your child in the water.
Being assisted in catching your child or having your partner assist you in catching your child.
After giving birth, being able to spend the night in your bed while receiving continuous postpartum care from your midwives 
Home delivery is much less expensive than giving birth in a hospital. The expense of giving birth in a hospital is frequently three times as expensive as giving birth at home.
Avoiding a needless cesarean delivery. Regardless of the healthcare provider, home birth cesarean rates are consistently far lower than those of adjacent hospitals.
You can prevent exposing yourself and your unborn child to microorganisms that can lead to serious disease or infection by choosing not to give birth in the same facility where sick patients receive medical attention.
Avoiding additional, sometimes unneeded treatments including episiotomies, antibiotics, and instrumental births.
Preventing medically produced problems such as maternal bleeding, newborn shoulder dystocia, severe maternal bleeding, severing of the umbilical cord, etc.
Being able to receive treatment from a midwife who respects birth and is knowledgeable about natural childbirth rather than surgical childbirth.
Having control over the birth attendants. Even if that means having numerous people there at your birth, you may have the support system you desire there.
Read also: my baby refuses to breastfeed but will take a bottle; what do I do?
Being seen and treated by skilled medical professionals while using few interventions.
There won't be a time limit on when you must give birth or how long your labor can last.
Receiving postpartum care at home from reputable and vetted caregivers for both Mom and Baby.
Birthing your child in a physiologic, or natural, way.
Deciding how you want to give birth and being supported in using your voice while you're giving birth
The cons of having a home birth include: 
when moving from a home setting to a hospital setting, there may be a delay in getting emergency medical care.
Making advance payments is necessary. Most of the time, midwifery treatment is not thought to be covered by insurance companies' in-network plans, so you might need to make arrangements to pay for your midwifery care up front.
Although home birth and midwifery care typically cost far less than hospital births overall, not everyone is able to budget for their care up front.
Transferring while you're in labor to a different institution. A small percentage of women who want to give birth at home either decide to transfer to a hospital for an epidural or are told by their midwife that, for one reason or another, the hospital environment may end up being the safest place for the birthing person or for their baby.
How to prepare for a home birth.
The most important component of preparing for your home delivery is choosing the appropriate medical team.
The person who performs home deliveries is frequently a licensed midwife or certified nurse-midwife, but it is also possible for it to be your neighborhood doctor. 
Some expectant parents additionally desire the presence of a doula, siblings, family members, or another birth partner throughout labor and delivery.
Together, you will create a birth plan to support your labor, have an idea of what to expect, plan a water birth if that is what you prefer, and have the delivery experiences that you want.
Discuss with your midwifery team their experiences supporting women to give birth at home.
If you intend to use a birthing pool or something similar, make careful to order them as soon as you can to guarantee their availability before your due date.
Make sure your partner or another support person can help put some items together, such as birthing pools or tubs, so that they may be used in the days or weeks leading up to the birth.
To ensure that everything is prepared for you (and your baby! ), you should also buy other goods in advance, such as birthing balls, plastic sheets, towels, and postpartum necessities.
Requirements for home birth 
It will need some planning to give birth at home. You should have a quiet, private room, and if you have older kids, you should consider if you want them in the house or not.
An essential item is a birth kit. To make sure you have everything you need, you can discuss this with your midwife or doctor. 
The majority of home birth professionals will bring a sizable kit of medical supplies for your labor and delivery.
Depending on your provider, different supplies may be required of you.
The basic content of the birth kits includes:
Sterile and non-sterile gloves
Lubricant
Cord clamp
Alcohol prep pad
Menstrual pad for postpartum usage
Antiseptic soap
Syringe
Gauze pads of various sizes
Washcloths
Towels
Fresh sheet for receiving the baby
Waterproof mattress cover
Trash bag for body products and placenta
Read also: 10 Effective Baby Whitening Lotions in Nigeria | Every Nigerian Mother has to Know This
Additionally, requirements may include labor aids like a tub, birth ball, birth pool, and music box.
Are there situations when home birth isn't advised?
An anticipated home birth is not advised by the American College of Obstetricians and Gynecologists if:
You've previously undergone a C-section.
You are carrying more than one baby.
Your baby does not arrange itself in a way that would permit a headfirst birth.
Situations that may cause the need to go to a hospital?
If issues arise during labor and delivery at home, you might need to visit a hospital. Your doctor could suggest visiting a hospital if:
There is no advancement in labor.
Your infant displays signs of distress.
You experience bleeding.
You get a fever.
Your infant is not facing headfirst.
You require pain alleviation.
You have high blood pressure.
How much does a birth home cost?
Your insurance plan could not cover any related expenses if you give delivery at home. Contact your insurance company for additional details.
Depending on where you reside, the cost can vary greatly and you'll still need to work with a midwife or other qualified medical expert.
Differences Between a Home Birth and a Hospital Birth
The type of care each person receives varies greatly between a home birth and a hospital birth, which is only one of many distinctions between the two.
In order to best serve each distinct person and family, home birth professionals develop personal relationships with each of their expectant and laboring clients.
Individualized care supports birthing people and their families in feeling empowered and frequently more satisfied with their birth experience.
It also creates space for evidence-based care to take place, all of which can lead to very different birth outcomes.
You are also more likely to get kind, kind, and human-centered care when you work with a midwife who knows you and cares about you.
You may anticipate being valued for who you are as a person and for your right to make decisions based on your preferences and birth plan. As your baby is being born, you may anticipate that they will be cared for as gently and safely as possible, with warmth and compassion.
Everybody in the home birth environment must also be healthy in order to preserve safety. People who are healthy, low-risk, and have a healthy pregnancy and infant are seen as safe and logical candidates for giving birth at home with midwives.
It is safer for someone to prepare for a hospital birth if they have a pregnancy issue, such as high blood pressure.
In the course of your prenatal care, your midwife will be able to evaluate your health and offer advice if it ever appears that giving birth in a hospital would be best for you or your unborn child.
We are sorry that this post was not useful for you!
Let us improve this post!
Tell us how we can improve this post?